The Vampire's Curse: Life Eternal
Order a copy from Amazon HERE
Purchase a signed Paperback Copy
There's no other way to say it; cancer is a bitch. When I was fifteen, Doctor's diagnosed me with a rare brain tumor and gave me five years to live. With my death imminent, I made a deal with the Devil. Well, not the real Devil, but one of his minions for sure. Out of options, I accepted an offer for eternal life. I agreed to become a vampire. And all I had to offer in exchange was one year of service to a Duke named Aldric. What is one year in the grand scheme of things? Especially, when I'd live forever.
Now, two years later, I have a different view of vampires. I live in the shadows and have no contact with any of my friends or family. I hate what I've become and If I could go back and do it all over again,  I would. To make matters worse, Aldric is summoning me for my one year of service. When I refuse, they hunt me like an animal. I'm run over by a car and witness my mother's death at the hands of Aldric's minions. No one stands up to-let alone refuses-Aldric, but enough is enough. I can't live like this. I'm always watching over my shoulder, and fear each new person I meet is on a mission to kill me. This is not a second lease on life; its torture and the only way it will end is if I kill Aldric. It's time for him to die.
 


A Shadow Within
Order an Amazon eBook Copy Here
Purchase a Signed Paperback Copy
The continent of Askabar is preparing for a battle between two brothers, and the face of the planet may never be the same. While Raythum Stormdragon prepares for the confrontation with Lutheras, Jaeden has fallen back into his old habits. The local tavern has become his home, and he's having a hard time separating right from wrong.
In Shakiel, Lutheras is stuck in a dream world because his body is near death and can no longer support his soul. Eldrin is busy searching for a new host body capable of supporting Lutheras' soul, but it's a difficult task considering Lutheras is invading his dreams and he hasn't slept in weeks. As Eldrin nears insanity, he receives word of the breakthrough they've been hoping for.
Days before Raythum is ready to march on Shakiel, he must go with Norlun, Matt and Jaeden on a last-minute trip to Bahlsum to ensure the safety of the orbs. Jaeden is confronted by someone from his past and learns he's been living a lie. His loyalty is tested and his actions may decide the course of the war. Time is running out and Jaeden is torn. He has only one night to choose between the safety of his friends, or all of Askabar.
The Final Offering
Order and eBook Copy From Amazon Here
Purchase a signed Paperback Copy
As a young Haloti fairy living on top of a maple tree, Thula is counting down the days until she reaches adulthood. Her whole life changes when a Grimmox fairy breeches the long-standing peace treaty by crossing their border. Thula isn't content to watch the destruction of her world, and volunteers for a new military program to counter the incursion. But once in training, she learns the program isn't about defense at all. It's about war, and all of the Haloti people are at risk of annihilation.
Thula must look to the most unlikely of allies, the Grimmox, to save their world. But they refuse to fight as it goes against everything they believe in. After receiving a vision from the sons of God, she learns this is their last chance to make peace. She was raised by the Haloti, but now sees the world through the eyes of the Grimmox, and is the only one they can trust with this task. If she fails, God will erase the Haloti and Grimmox from the planet. She only has one day to unite them all.

The Rising Past 
Order an eBook Copy from Amazon Here
Purchase a signed Paperback Copy

Raythum Stormdragon has a problem. The orbs he swore an oath to protect are disappearing, weakening the prison of a nefarious demon, and his brother is to blame. It's only a matter of time before he must choose between the nation he loves, Askabar, or his brother who is determined to destroy it.
Long ago, a wizard who valued power and control more than the life, walked the planet. Killing and conquering to suit his own needs, he plunged the entire world into chaos. With the assistance of the Elves of Ferrindale, the conclave of Havenbrook creates seven orbs to imprison the wizard and stop his rampage. After the battle, the orbs were scattered throughout the world. An elite order of soldiers exists to protect them, known as the Keepers of the Orbs, and Raythum is their leader.
If the seven orbs are combined, the prison will unlock and the wizard will walk free, plunging the world into ruin. Raythum knows this is his brother's intention, and he follows him 130 years into the past. With two orbs already in his brother's control, Raythum must unite all of the nations of Askabar to stand against him.
The only problem? He is half a continent away, and must use his relationship with the Elves and Dwarves—a relationship built in the future that doesn't exist yet—to reach his brother before he captures any of the remaining orbs. With time running out, Raythum must decide.

The Unknown Man
Order an eBook Copy from Amazon Here
Purchase a signed Paperback Copy

A journey spanning the entire continent of Askabar
An unknown man regains consciousness in the back of a merchant's wagon only to discover he has no memory of who he is. He discovers the merchants are Goblins, who are transporting him to  Havenbrook under the assumption he is a nobleman. Given his extravagant armor and decorated two-handed sword, they are hoping for a reward for his return. Once in Havenbrook, the Lord urges him to seek out an old and mysterious wizard who lives at the foot of the mountains to the east, and sends his daughter with him as an escort and guide. This is where their journey begins.
To the north, a malevolent force is building, gathering the resources necessary to reap destruction across all of Askabar. The sinister figure is on a mission to release his master from the prison he has been bound to for over a thousand years. To succeed in this endeavor, he will need to gather all seven of the orbs, and he recruits Orcs and Minotaurs as soldiers for his cause. Standing in his way is the unknown man, whose party continues to grow.
All of Askabar is on the verge of destruction and tyrannical rule. Battles will be fought, and heinous plots will be carried out. The one man who can stop this nefarious plan doesn't even know who he is. Will he uncover his memories in time? One thing is for certain; an entire population will depend on the unknown man.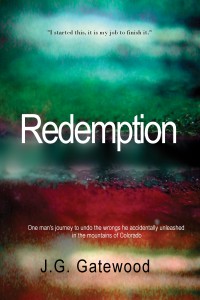 Redemption – Novella
Order an eBook Copy from Amazon Here
Mike Thompson made a mistake.  A mistake leading to countless deaths, and the possible extinction of the Human race.  He thinks he is a sole survivor and puts a plan in motion to atone for all he has done.  As life on earth seems destined to disappear, Mike prepares one last stand, jeopardizing his own life in the process.